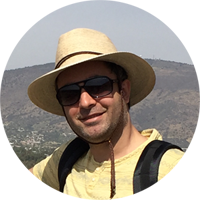 One of the most exciting thing about programming and software engineering compared to other professions is the fact that you learn new things every day, there is a large community behind it and above all, almost all businesses depend on it. Simple and sweet and that is why I love it!
Anyways, enough of introduction. My name is A. Pakbaz, a programmer that tries to be creative! I have been dealing with codes for the last 15 years. I got my master's degree in Software Engineering as part of my effort to submit my thesis in cloud computing back in 2013.
Now a little bit of background; I started writing code with C all the way up to most advanced languages such as C#, PHP, and Python.  New challenges make me learn and keep myself up-to-date with new technologies and part of this effort eventually ends up here in this blog.
Question: Why did you call this blog Mindful Codes?
I don't know 😛 ! probably that is because posts on this blog are part of my learning and challenges I face every day and comes right from my mind! (maybe a programmer with mindful thoughts) 
I currently work for a software company that deals with an enterprise CRM application that connects and syncs with large accounting software such as QuickBooks. We deal with lots of different technologies from old legacy code such as VB, C all the way up to new technologies like ASP Net Core, REACT, REDUX, ANGULAR, SASS, MONGO DB etc.
I have also hands-on experience in the following technologies/ languages:
Linux, Windows server,
Team foundation server
Amazon services
Windows Azure
Networking
Data management and database clustering
System administration etc.
Feel free to ask me a question on any post or shoot me an email: info(at)parsstudent.com